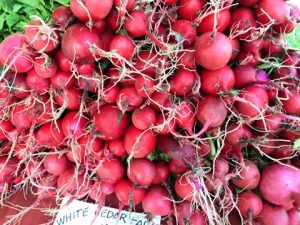 It rained, it poured, but we were not deterred last weekend! Let's just say that THIS Saturday we will be enjoying a beautiful end-of-spring day, and we look forward to seeing you across from the pond, at our market in the parking lot of 50 Payson Avenue!
This week we have entertainment from Jim Eagan (10-12) and Paul Sticca (12-2). Jim plays acoustic folk and folk blues, and Paul specializes in acoustic Americana.
Sun Kim Bop, the Korean food truck, will be at market for lunch!!
————————————————-
Here's who's coming to market this Saturday:
Blue Sun Nursery will have a variety of perennials.
Ellie's Oils will be there with flavor infused olive oil and balsamic vinegar.
Kosinski Farms and Raven Hollow Winery will be at market with greenhouse tomatoes, strawberries, baked goods, jams, jellies, and condiments, radishes, hanging baskets, and various wines.
Lovefield Way Garden Arts will have heirloom tomato and other vegetable starts, succulents, blue snap peas, and a number of other plant and garden items for you!
Passalongs will be at market with fresh flowers, a wide variety of homemade jams and jellies, granola, and gluten free pound cake. Yum!
Riverside Gardens will be bringing basil, cilantro, mint, flat parsley, curly parsley, beets, carrots, Swiss chard, Kale, heads of lettuce, salad mix and potted herbs and flowers to the market this Saturday!
Sage Meadow will be at market with amazing smelling goat milk soaps.
Sweet Harvest Farm will be there with eggs, veggie starts and t-shirts.
Truehart Massage will be there. doing 15 minute chair massages. With every $10 chair massages you'll receive a coupon for $10 off a full session.
White Cedar Farm will be bringing: garlic scapes, baby bok choi, asparagus, lettuce, kale, basil, rhubarb, Swiss chard, mint, potted herbs, patio tomatoes, Mycoterra Farm shiitake mushrooms , Green Acres Fruit Farm honey, honey sips and eggs. and Wise Acre Farm Organic Strawberries.