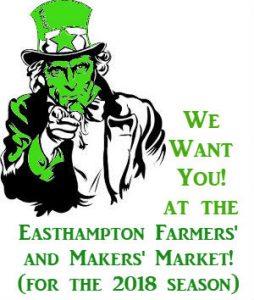 We are getting really excited about the 2018 market season! Many of our previous vendors are returning and we have some great new folks coming as well! We can't wait to share who will be coming to market each week.
We are actively seeking more vendors for 2018!
All of Easthampton Farmers' and Makers Market vendors are from Easthampton (MA) or surrounding towns, all are either producers of what they sell or clearly identify the local farms or small businesses that they represent!
Vendors of all agricultural products, arts, crafts, foodstuffs, body products, or any homemade, homegrown, or homecrafted items are encouraged to apply! You can apply to come to market full season, part-season, drop-in, or as a market guest, which is perfect for folks who only have seasonally available items, or who just want to check us out.
Market Rules and Regulations are here.
Please return your application by March 30th, 2018!
Please email our Market Manager at easthamptonfarmersmarket@gmail.com if you have any questions.