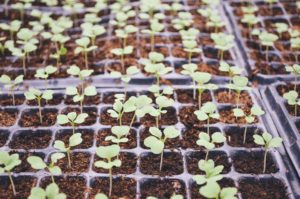 Winter was long, spring has been cold and rainy, but FINALLY we're ready to start market! May 25 is the Opening Day at the Easthampton Farmers' Market! We're super excited for our 2019 market season!
Please note: we will have 4 great general produce vendors at market each week but THIS week we just have one due to the cool spring. Stay tuned – all 4 will be here, starting next week!
In addition to great vendors, we have MUSIC, YOGA, ARTS and CRAFTS, and a free seed starting activity for kids! Plus a bunch of great community partners will be visiting with us! Details below.
Here's who's coming to market this week:
Barden's Gardens is bringing live and cut Microgreens.
Crooked Stick Pops is looking forward to the return of the Easthampton Farmers' Market and cannot wait to see you all! We'll have the following flavors: Chocolate Banana, Lemon Cream, Mango Strawberry Banana, Raspberry Lime, and Strawberry Watermelon Fruit Punch.
ElleNaturel is coming with handmade bath and body products and bug repellent.
LifeBooch will have homemade kombucha, now from Easthampton!
Mayval Farm is coming with Mayval will be there – cheese, skyr, milk, kefir, beef and maple products and hopefully cookies!
Night Shift Street Fare is bringing made-to-order BREAKFAST to market.
Sage Meadow Farm will have Goat milk soap and body products, made with goat milk from Sage Meadow Farm in Easthampton.
Sweet Morning Farm is bringing vegetable starts, greens, scallions, spinach, mesclun mix, eggs, and pork.
This week's guests and entertainment:
Emily Williston Memorial Library, who will have all manner of books and stories on seeds, gardens, and farms, and who will hook you UP with a library card if you need one;
The Easthampton Community Center, who will tell you all about their food pantry, their programs, their kids' pantry, and all the amazing stuff they do for our community, PLUS folks from the Senior Center, who can fill you in ways they help the community;
Folks from the The Food Bank of Western Mass., who will teach you all about the HIP – Healthy Incentives Program, Pioneer Valley, which just got funded to the tune of 6.5 million dollars, thank you very much;
A free SEED STARTING activity, with Margaret, who managed our market last year;
ARTS AND CRAFTS with Ms. Danielle, of course,
AND: musician Andrew Biagerelli, who will play from 9-10:45
FREE YOGA in the park, with Urban Yoga Easthampton from 10:45-11:15, then more music from Claire Dacey at 11:15.