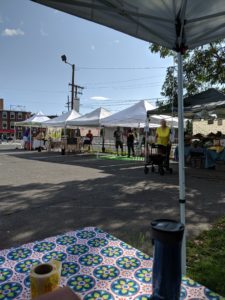 Good afternoon!
Here's who is coming to the market this weekend and what they are bringing! We are anticipating a lovely day tomorrow, and we hope to see lots of you out doing your shopping with us!
Here's who's coming to market this week:
Crooked Stick Pops is bringing Peach Lemonade, Strawberry Watermelon Fruit Punch, Chocolate Banana, Passionfruit + Watermelon, Blueberry Lavender + Lemon Cream pops!
Lifebooch is coming with Strawberry Basil, Ginger, Mango Jalapeno, and Sangria kombucha!
Mayval Farm is coming with cheese, skyr, milk, kefir, beef and maple products!
Riverside will have a ton of veggie and herb starts, beets, Kale, Rainbow chard, along with succulent terrariums and houseplants
Sweet Morning Farm will have PORK bacon, ham steak, hotdogs, ribs, loin chops, country ribs, shoulder, sausage, and more.  All rotationally grazed on fresh pasture and organic feed! FLOWERS beautiful bouquets in abundance EGGS organic fed, pasture raised, and colorful VEGETABLES tomatoes, basil, peppers, eggplant, onions, garlic, leeks, happy rich broccoli, cauliflower, beans, fennel, cucumbers, squash, salad mix, Malabar and New Zealand spinach, beets, carrots, salad turnips, scallions, radishes, kale, chard, mustard, cabbage, Napa cabbage, potatoes, herbs, and CORN!
This week's guests and entertainment:
ARTS AND CRAFTS  with Miss Danielle!
AND: musicians Greg Reil, who will play from 9-11:30 and Snackbeard, who will play from 12-1
YOGA from 10:45-11:15 with Anastasia from Urban Yoga
Ben Lesko from Feasthampton will be there with a tool care demo and seed library information.
PJ Niver with Culture of Reuse will be back! Culture of Reuse is an educational project that connects people with ideas, tools, craftspeople, local groups, and their neighbors to begin to think differently about how we live. It is both an awareness campaign of the social and environmental effects of our current single use culture and direct support to help people acquire and sustain new skills to explore and adopt a reuse lifestyle. PJ will also have stainless steel straws, tea infusers, and bamboo sporks.
PONY RIDES! We are so happy to have Welsh Creek Adventures back with pony rides for kids!