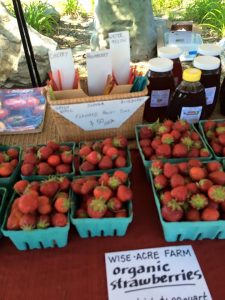 Yay! Summer is here! That means summer veggies and other goodness aren't far behind!
This Saturday our wonderful sponsor, Beyond Green, will be at market to share the benefits of solar power and energy efficiency. The Easthampton PTO will be there, and kids can make a FREE cheerio birdfeeder!
Thanks to The Prindle School, we'll be listening to Rua Bhean from 10-12, then after 12 we'll have SpecialK at market, and Holyoke Hummus Company will feed us!
Here's who's coming to market this Saturday:
Blue Sun Nursery will have a variety of perennials.
Ellie's Oils will be at market with flavor infused olive oil and balsamic vinegar
Kosinski Farms and Raven Hollow Winery will be at market with greenhouse tomatoes, strawberries, baked goods, jams, jellies, and condiments, radishes, hanging baskets, and various wines.
Passalongs will be at market with fresh flowers, a wide variety of homemade jams and jellies, including organic strawberry jam and jalapeno strawberry, made just this week with local strawberries. Yum!
Riverside Gardens and Red Fire Farm will have spicy salad mix, red chard, white chard, curly green kale, romaine lettuce, salad mix, cucumbers, radishes, summer squash, basil, cilantro, curly parsley and flat parsley and will be bringing Park Hill Orchard's asparagus, eggs, and garlic scapes.
Sweet Harvest Farm will be at market with eggs, lettuces, kale, spinach, potted herbs and veggie starts
White Cedar Farm is bringing lettuce, baby bok choi, arugula, kale, rainbow chard, asparagus, rhubarb, bunched herbs, potted herbs. Green Acres Fruit Farm's eggs and honey. Wise Acre Farm's Organic Strawberries and Mycoterra Farm's Shiitake Mushrooms.