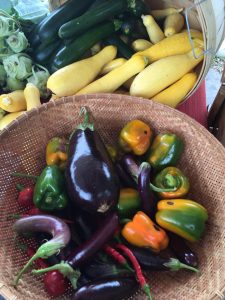 It's going to be a HOT ONE, everyone. Farms and gardens are in full swing. Tons of great stuff at this week's Easthampton Farmers' and Makers' Market!
For music we'll have Paul Sticca from 10-12 and Ed Bentley 12-2.
Here's what's happening August 13:
Passalongs will be there with a wide variety of jams, flavored salts, and gorgeous flowers.
Riverside Gardens will have an abundance of kale, Swiss chard and sp
icy salad mix as well as some leeks, beets, Ailsa onions, red gold potatoes, summer squash, zucchini, basil and various herbs both cut and potted.
White Cedar Farm will have Four Rex non GMO sweet corn, Green Acres Fruit Farm honey and eggs, peppers, tomatoes, eggplant, zucchini, summer squash, cucumbers, onions, kale, collard greens, basil, lettuce, cherry tomatoes, tri-colored beans, and melons.