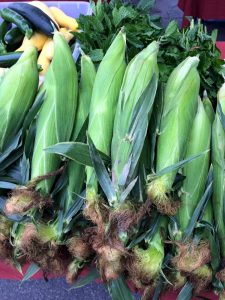 This Saturday, August 20, we will have a bounty of local goodness for you!
Our super sponsor, Beyond Green will be at market to tell you all about how you can become more energy efficient!
Mothership Gourmet, a local food truck, will be feeding us.
Our vendors will be:
Crooked Stick Pops will be there with these popsicle flavors: Blueberry Lavender Lemonade, Watermelon, Cantaloupe Mint, Strawberry Lemonade, Orange Cream and Spicy Chocolate Avocado.
Passalongs Flower Farm and Wicked Small Batch Jammery will have flowers and jams, naturally!
Riverside Gardens will have carrots, beets, tomatoes, chard, kale, summer squash, cucumbers, jalapeno peppers, leeks, onions, bell peppers, red gold potatoes, zucchini and flowers.
White Cedar Farm is bringing: tomatoes, cherry tomatoes, basil, peppers, eggplant, kale, collard greens, rainbow chard, zucchini, summer squash, cucumbers, melons, tri-colored beans, broccoli, cabbage, For Rex Farm's Hadley Non-GMO sweet corn, Mycoterra Farm's Shiitake Mushrooms and Green Acres Fruit Farm Honey and Eggs