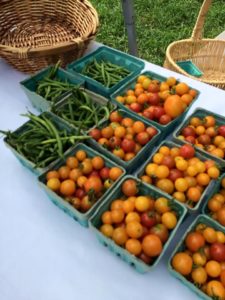 Summer harvest is still in full swing at the Easthampton Farmers' and Makers' Market! This week we'll have Paul Sticca entertaining us from 10-12, and Rua Bhean from 12-2.
Our regular vendors who'll be there this week:
Blue Sun Perennials will be at market with a wide variety of perennials and herbs.
Lovefield Way Garden Arts is bringing heirloom tomatoes, peppers, cucumbers, summer squash, beans, fresh herbs, cut flowers and succulent terrariums.
Passalongs will be at market with flowers, jams, and flavored salts.
Riverside Gardens will have Sunflowers, orange carrots, rainbow carrots, Leeks, red gold potatoes, Swiss Chard, Kale and cherry tomatoes.
White Cedar Farm will be bringing tomatoes, cherry tomatoes, plum tomatoes, peppers, onions, cabbage, kale, collard greens, mustard greens, rainbow chard, tri-colored beans, summer squash, zucchini, cucumbers, lettuce, basil, parsely, thyme, Green Acres Fruit Farm Honey and Eggs, and Four Rex Farm non-GMO Sweet Corn.