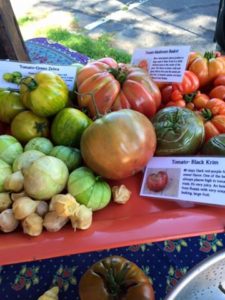 It's going to be a great week this week! Gorgeous weather (is fall here?), great music, and tons of amazing fresh produce, plants, flowers, jams, and handcrafted items.
Easthampton Music Conservatory is playing 10-12! E=MC Rock Your Face Off! From 12-2 we'll have Crimson Canary.
Blue Sun Perennials will be at market with a wide variety of perennials and herbs.
Crooked Stick Pops will be at market with great flavors: Watermelon Mint, Mango Basil Lemon , Black Grape , Blueberry Lavender Lemonade, Mystery Layers, Red Velvet, and Blueberry Watermelon.
Lovefield Way Garden Arts is bringing heirloom tomatoes, peppers, cucumbers, summer squash, beans, fresh herbs, cut flowers and succulent terrariums.
Passalongs Flower Farm & Wicked Small Batch Jammery will be at market with fresh flower bouquets and a wide assortment of jams and jellies.
Riverside Gardens will have Sunflowers, orange carrots, rainbow carrots, Leeks, red gold potatoes, Swiss Chard, Kale and cherry tomatoes.
White Cedar Farm is bringing watermelon, summer squash, zucchini, tomatoes, kale, rainbow chard, lettuce, cucumbers, eggplant, peppers, mustard greens, tri colored beans, sugar pumpkins, Warner Farm sweet corn, Green Acres Fruit Farm honey and eggs and Ravenwold Greenhouses fall mums and asters.