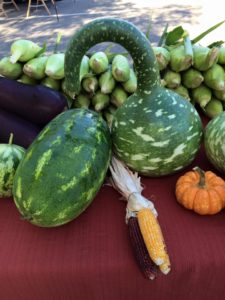 This week at the Easthampton Farmers' and Makers' Market we have juggling, music, and of course, wonderful, local, farm-fresh products for you to enjoy! It's our last market of the year so take advantage!
Right across from us will be Paradise City Dragon Boats! For a donation, you can ride a dragon boat on the pond. The World Language Club from Easthampton High School will also be at market, so check them out as well.
From 10-12 we'll be entertained by "James of the Juggling Bards!" Fun! We'll also have music from Sheryl Stanton, and in the afternoon we'll have Jim Eagan and the Prindle School!
The vendors at market this week are:
Blue Sun Nursery will be there with a wide variety of perennials.
Kokoro Japanese Soul Food will be at market with fresh fall veggie sushi. Yum!
Passalongs Flower Farm & Wicked Small Batch Jammery will be at market with flowers & jams.
Riverside Gardens will be at the market with huge amounts of produce all on sale! They will have cherry tomatoes, butternut squash, Swiss chard, Kale, radishes, cucumbers, jalapeno peppers, bell peppers, basil, chives, some slicing tomatoes, potted herbs and cut flowers!
White Cedar Farm is bringing brussels sprouts, cooking greens, tomatoes, plum and cherry tomatoes, eggplant, peppers, hot peppers, watermelon, winter squash, pumpkins, and Green Acres Fruit Farm Honey and Eggs