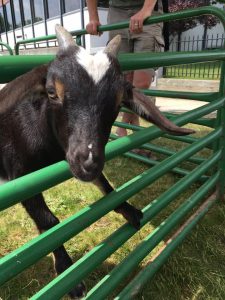 We are super psyched to have Pine Hill Farm's petting zoo at market this Saturday! This is their second year with us in a row…dare we call it a tradition?
It's FOOD TRUCK time, too! Mothership Gourmet will be serving up breakfast for market goers. This is some tasty food, people. Order up!
Peter Blanchette will be keeping us well entertained with his gorgeous music all day long, and of course we'll have free coffee for you, provided by our sponsor, Shelburne Farms Coffee Roasters of Easthampton! Oh – and it's National Grape Popsicle Day on Saturday! Who knew? So of course, in addition to all the great flavors Crooked Stick is bringing (see below) she will also have plenty of grape.
Our vendors at market this week:
Blue Sun Perennials will be at market with a wide assortment of perennials and herbs. It's planting time!
Chicoine Family Farm will bring a wide selection of grass-fed beef.
Crooked Stick Pops wants you to know that May 27 is National Grape Popsicle Day! To celebrate, they'll be offering Grape Pops! They'll also have Key Lime, Blueberry with Toasted Coconut, Watermelon Mint, Mango Basil Lemon layered with Pineapple Ginger, and Strawberry Lemonade.
Five a Day Farm will be at market with kale, lettuce, mixed greens, and radishes.  They'll also have starter plants: cherry and slicing tomato, strawberry, basil, parsley, zucchini, and possibly some lettuce.
Lovefield Way Garden Arts is bringing vegetable, herb and flower starts, succulent planters, flowers and crocheted hanging baskets.
Nuestras Raices will be joining us with veggie starts, baby kale, radishes, baby mustard greens, spinach.
Passalongs Flower Farm and Wicked Small Batch Jammery will have flowers (including lupine, orlaya, poppies, anemone, false Solomon's seal, ferns, iris, and allium), jams, and succulent gardens. It's not too late to sign up for the 6-week FLOWER CSA, which starts in July. It can include delivery!
Riverside Gardens is coming and they will have vegetable, flower, herb and fruit bedding plants/starters as well as rhubarb and scallions.
Sage Meadow Farm will have an assortment of goat milk soap. We will also be offering goat milk cheeses from our foundation farm, Valley View, which includes an assortment of fresh chèvre, delicious feta, and their specialty tome cheese.
White Cedar Farm is bringing asparagus, rhubarb, fiddleheads, hanging baskets, potted herbs, garden plants and flowers,strawberry plants, raw, local honey, farm fresh eggs, and shiitake mushrooms.