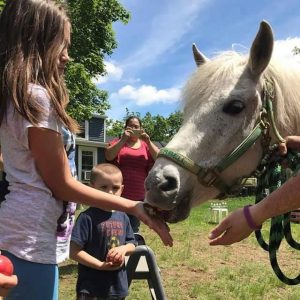 For us farmer types, May went by at the speed of light! Lucky for you, visitors to the Easthampton Farmers' and Makers' Market, because the further we get in the season, the more wonderful variety we are able to bring to you!
This week we have pony rides at market! Super fun! Welsh Creek Farm Adventures is bringing Tinkerbell to market for the little ones to ride. We will have music by market favorites, Jim Eagan and Paul Sticca.
Our fantastic sponsors, the Easthampton PTO, will be making dreamcatchers at the kids' craft tent.
Our regular vendors will be at market, too! Here's who is coming and what they are bringing:
Blue Sun Perennials will have a wide assortment of perennial and herb plants.
Five a Day Farm is bringing plants, lettuce, kale, radish, and mixed greens
Hilltown Grazers will be bringing pork chops, St. Louis ribs, pork butt and shoulder, Bratwurst, Liverwurst, no-nitrate hot dogs, hams and other goodies.
Nuestras Raices is coming and will have have plant starts, radishes, baby kale, lettuce, baby braising mix, and maybe cilantro
Passalongs will be there with a wide variety of jams (a bunch of strawberry varieties!) as well as flowers, flowers, and flowers, plus succulent gardens and hanging hydroponic gardens.
Riverside Gardens will have romaine and leaf lettuce, limited baby kale, chives, rhubarb, vegetable, herb and flower starter plants, geraniums and potted pansies.
Sage Meadow Farm will have an assortment of goat milk soap. We will also be offering goat milk cheeses from our foundation farm, Valley View, which includes an assortment of fresh chèvre, delicious feta, and their specialty tome cheese.
White Cedar Farm is bringing hanging baskets, garden plants, herbs and flowers, raw, local honey, farm fresh eggs, rhubarb, and shiitake mushrooms.