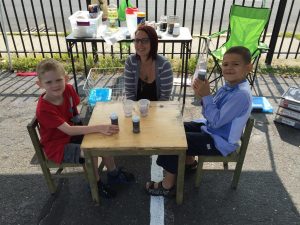 Can you believe it? It is definitely starting to feel like fall is in the air! Here's what you can expect this week:
Lovefield Way Garden Arts is bringing fresh herbs,  cut flowers, succulent terrariums, crocheted hanging plant holders and reusable mesh bags.
Nuestras Raices will be joining us with tomatoes, cherry tomatoes, eggplant, scallions, kale, sunflowers, garlic, peppers, and maybe watermelon.
Passalongs Flower Farm & Wicked Small Batch Jammery will be at the market with fresh flowers, a wide variety of jams, fruit butters, and marmalades, 2 kinds of jam-stuffed muffins, hanging hydroponic gardens, and home-grown garlic wreaths.
Five a Day Farm will be coming with cherry tomatoes, green beans, pickling cukes, kale.
Riverside Gardens will have lettuce mix, curly and red russian kale, chard, radishes, cucumbers, basil, chives,green beans and mint, all grown naturally and with love!
Sage Meadow Farm will have an assortment of goat milk soap.
White Cedar Farm is bringing Watermelons, Savoy Cabbage, Zucchini, Cucumbers, Tomatoes, Mycoterra Farm Shiitake Mushrooms, Green Acres Fruit Farm Eggs and Honey, Saltbox Seasonings.
Sapowsky Farm will be bringing corn, tomatoes, cherry tomatoes, carrots, beans, lettuce, zucchini, summer squash, peter pan squash, yellow zucchini, scallions, apples, peaches, nectarines, broccoli, cucumbers, peppers (sweet and hot), radishes, possibly potatoes, and anything else they can dig up from the garden!
Crooked Stick Pops will be bringing a variety of their delicious frozen pops! They will haveVanilla Latte, Honey Nectarine, Strawberry Lemonade, Honey Rhubarb Cream, Maple Pear, and Peaches and Cream.
Saltbox Seasonings will be there with an assortment of their hand blended herb seasonings, seasoned salts and seasoned sugars!
Welsh Creek Farm Adventures will be joining us for pony rides too!
The Kids Tent will also be hosting their weekly craft.
Bring the family down, hang out, shop, listen to music and enjoy this beautiful Saturday morning!
Our market is now accepting SNAP! Stop by the manager's tent for more information.