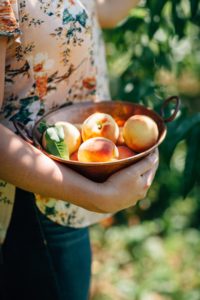 Hi all! Come on down this Saturday to peruse the farm fresh goodness that we'll have for you this week. It's is the perfect time to stock up on fruits and veggies for preserving and pickling so that you can continue to eat local as the summer winds down. Or, bake and freeze a few savory tomato pies to warm up later for an impromptu dinner party. Never had a tomato pie? Stop by the manager's tent for the free recipe after you shop the market for ingredients! While you're there, sign up for our weekly email list and enjoy a cup of coffee provided by our generous sponsor Shelburne Falls Coffee Roasters!
Kirk's Creations will have Stukitz Kraut, jalapeño garlic Kraut, Blaukraut, vegan kimchi, fermented hot sauce, fermented cucumbers, garden ripe HOT peppers including Trinidad Scorpion, Ghost, Scotch Bonnet, Cayenne, Serrano, and a fresh batch of smoked salsa!
Stony Creek Farm will have an assortment of pickles and preserves, pies and cookies, and gorgeous loaves of bread, and goat cheese and meat.
LifeBooch is back with kombucha! They'll have a fresh batch of ginger and mango jalapeno, and more strawberry basil if the batch is ready in time!
Riverside Gardens is bringing all of their vegetable bounty!
Passalongs will have vibrant flower bouquets, hardy succulent planters, and a ton of tasty homemade jams including three new summer fruit flavors: roasted peach and blueberry pie, honey cardamom pear, and wild grape and blueberry conserves.
Sapowsky Farm will be there with an edible rainbow of fruits and veggies! Corn, tomatoes, peppers, peaches, blueberries, apples, nectarines, plums, squash, beans, broccoli, cauliflower, and cucumbers are in the line up.
Sweet JJs will have a delectable variety of baked goods, including their veggie rolls, sourdough (plain and gorgonzola garlic), flaky croissants, cinnamon rolls, almond cloud cookies, golden raisin oatmeal cookies, emoji lemon sugar cookies, plum cobbler muffins, and lemon tarts.
Mayval Farm will have milk, a range of fresh cheeses, and beef. This is the last week for peach skyr, so if you haven't tried it, now is the time!
Parkhill Orchard will have just picked peaches, and an assortment of delicious early fall apples! Whet your appetite with the peach samples this week! And of course, raw wildflower honey from Red Barn Honey Company.
Pearl Street Mushroom Farm will have infused nut butters and a plethora of mushrooms harvested from their urban farm in Holyoke.
Head on over to the check out the Kids' Tent and get crafty with Miss Danielle!
Sweet tunes will be provided by Greg Heil and Ed Bailey.
The market gladly accepts SNAP and HIP!