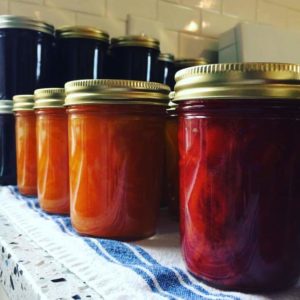 Hi Everyone! Be sure to stop by the market this week! Here is a list of this weeks vendors and what they will be bringing with them:
Passalongs Farm – Fresh flower bouquets, lots of jam, and tabletop succulent gardens.
Sapowsky Farms – Strawberries, greens, spinach, asparagus, tomato plants, radishes and possible fresh bread.
Riverside Gardens – Veggie starts, chives, rhubarb, greens.
Sweet JJs – Buffalo Chicken Bake, Veggie Bake, Chocolate Croissant, Blueberry Danish, Cinnamon Roll, Veggie Roll, Raspberry Chocolate Chip Cookies, Peanut Butter Cookies, Zucchini Chocolate Muffin, and Lemon Tarts.
Stoneybrook Cider – Locally made hard cider.
Five a Day Farm – Veggie starts and greens.
Elle Naturel – Handmade bath and body products and amazing Pest be Gone all natural bug spray!
Saltbox Seasonings – Unique and original seasoning blends, salt-free blends, BBQ rubs, chile pepper blends for ChileHeads, gourmet sea salts, specialty organic sugar blends, dip mixes, salad dressing mixes, bruscetta mixes, instant nut-free pesto, organic cocoa blends, and fancy cornmeal bake & fry coating made from organic corn. No additives, MSG or preservatives!
Blue Sun – Annual, perennial plants and herbs.
Mayval Farm – Milk (white and chocolate), cheese (including skyr, fromage blanc, camem-mere and cheese curds), beef, possibly a few eggs, maple cream.
Lenora will be joining us this week with some gorgeous local jewelry! "My jewelry is designed with upcycled materials from donations. Often materials are donated when someone might lose one earring, discover a necklace is broken, or wish to simply get rid of old or out of style jewelry. I then disassemble all materials, fully clean them, and begin the design process to create new and unique piece of work."
David Lovler will be joining us to teach us how to effectively use a backyard composter and answer any gardening or composting questions!
GREAT NEWS: The HIP program has been reinstated, this week our HIP vendor, Sapowsky Farms, will be joining us!!
Our market also accepts SNAP!
See you Saturday!