This is a great week to come if you are getting ready to plant your garden for the summer, several of our vendors will be bringing vegetable starts and other plants.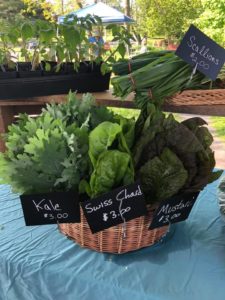 Did you know that you can do most of your weekly shopping at the market? In addition to vegetables, plants, and other products, our vendors have organic fed, pasture raised pork and eggs available, as well as local beef and dairy. Visit the Market Manager tent if you are looking for a product, we can point you in the right direction!
In addition to a diverse assortment , we have MUSIC, ARTS and CRAFTS, and PONY RIDES for kids! Plus a bunch of great community partners will be visiting with us! Details below.
Here's who's coming to market this week:
Crooked Stick Pops will be back and cannot wait to see you all! We'll have the following flavors: Chocolate Banana, Creamy Mango, Raspberry+Mango, Coconut Iced Coffee, Passion fruit+Watermelon.
LifeBooch will have homemade kombucha, now from Easthampton!
Mayval Farm is coming with cheese, skyr, milk, kefir, beef and maple products and hopefully cookies!
Manhan River Organics will have baby radishes, microgreens, vegetable starts (broccoli, kale, and lettuce), and eggs
Night Shift Street Fare is bringing made-to-order BREAKFAST to market.
Ravenwold Greenhouse will have vegetable starts, plants, and hanging baskets.
Riverside Gardens will have vegetable starts, houseplants, and succulents.
Sage Meadow Farm will have Goat milk soap and body products, made with goat milk from Sage Meadow Farm in Easthampton.
Sweet Morning Farm is bringing vegetable starts, rhubarb, greens, scallions, spinach, mesclun mix, eggs, and pork.
This week's guests and entertainment:
The Easthampton Police Department, who will be doing "coffee with a cop" and will have a kid's activity;
Ben Lesko from Feasthampton, will be presenting some cool information
Folks from the The Food Bank of Western Mass., who will teach you all about the HIP – Healthy Incentives Program, Pioneer Valley
PONY RIDES, presented by Welsh Creek Farm Adventures;
ARTS AND CRAFTS with Ms. Danielle, of course,
AND: musicians Greg Reil, who will play from 9-11 and Sean Bissaillon, who will play from 11-1.