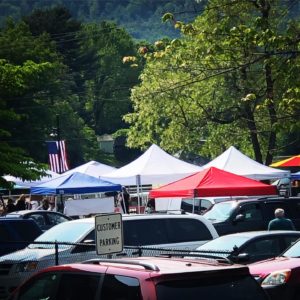 There is a LOT going on in downtown Easthampton this weekend! Cultural Chaos will be happening on Cottage Street starting at noon, and there will be lots of cool things to see and do, after you get your market shopping done of course! We will have great produce and products available and will be open our regular hours, from 9-1. Please be aware the Cottage Street will be closed to traffic starting at 10am and plan accordingly.
In addition to a diverse assortment , we have MUSIC and a SUPER FUN activity for kids! Details below.
Here's who's coming to market this week:
Barden's Microgreens will be back this week with live microgreens
David Lovler will be demonstrating how to compost and be selling heirloom veggies
ElleNaturel will have homemade bath and body products, including bug spray
Mayval Farm is coming with cheese, skyr, milk, kefir, beef and maple products including delicious skyr blueberry parfaits
Riverside Gardens will have vegetable starts, houseplants, and succulent terrariums.
Sweet Morning Farm is bringing vegetable starts, rhubarb, greens, scallions, spinach, mesclun mix, eggs, and pork.
This week's guests and entertainment:
Claire Dacey will be returning to serenade us in the morning from 9-11
Folks from the The Food Bank of Western Mass., who will teach you all about the HIP – Healthy Incentives Program, Pioneer Valley
ARTS AND CRAFTS with Ms. Danielle