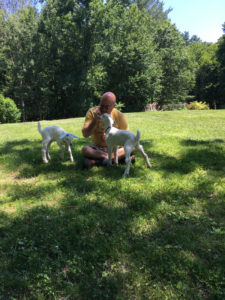 Good afternoon!
It's BABY GOAT DAY!!!! Sage Meadow Farm will be bringing baby goats to market for petting and adoring! The gentlemen of Sage Meadow Farm will be at the market with their kids (of goat yoga fame!) and will be available to share their extensive knowledge of goat care with anyone interested in learning more about raising goats. 
Here's who is coming to the market this weekend and what they are bringing! We are anticipating a lovely day tomorrow, and we hope to see lots of you out doing your shopping with us!
In addition to a diverse assortment , we have MUSIC and  ARTS and CRAFTS. Plus a bunch of great community partners will be visiting with us! Details below.
Here's who's coming to market this week:
Lifebooch is back! With Raspberry Grapefruit, Ginger, and Sangria kombucha!
Manhan Organics is bringing lettuce, microgreens, radishes, kale and broccoli plants, snap peas, and eggs
Mayval Farm is coming with cheese, skyr, milk, kefir, beef and maple products, cookies and parfaits!
Riverside will have a ton of veggie and herb starts, along with houseplants, succulents, and spider plants
Sweet Morning Farm this week they will have more nice Kale, Swiss Chard, and Bok Choy.  There is also more head lettuce and a good harvest of mesclun mix. New this week are some wonderful Escarole and Yokatta Na, an Asian green that is like a hybrid of Bok Choy and Chard.  Also more great Beets, Carrots, New Potatoes, Summer Squash, Cauliflower, Cherry Tomatoes, Garlic Scapes, Herbs, and more!
Also don't forget pasture raised, organic fed pork and eggs, and flowers too!
They just picked up a bunch of pork from the butcher, so it's a great time to order a 20 lb discount bundle!  Stop by the market or contact the farm for details.
This week's guests and entertainment:
Easthampton Youth Soccer Association (EYSA) will be on hand collecting gently used soccer cleats for their annual gear swap. All sizes welcome. Donated pairs will be made available to EYSA players and families for the upcoming season. EYSA volunteers will also be on hand to provide information on registration for the fall season and answer questions.
David Lovler will provide compost conversation and advice. His veggie offerings will include beets, red kohlrabi, scallions. He will also have  garden seeds for summer and fall planting.
PJ Niver with Culture of Reuse will be back! Culture of Reuse is an educational project that connects people with ideas, tools, craftspeople, local groups, and their neighbors to begin to think differently about how we live. It is both an awareness campaign of the social and environmental effects of our current single use culture and direct support to help people acquire and sustain new skills to explore and adopt a reuse lifestyle. PJ will also have stainless steel straws, tea infusers, and bamboo sporks.
ARTS AND CRAFTS with Ms. Danielle, of course,
AND: musicians Greg Reil, who will play from 9-11, and Bruce J. Korona from 11-1