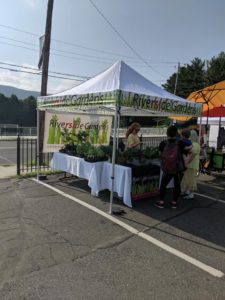 Good afternoon!
Here's who is coming to the market this weekend and what they are bringing! We are anticipating a lovely day tomorrow, and we hope to see lots of you out doing your shopping with us!
Here's who's coming to market this week:
Lifebooch is coming with Strawberry Basil, Ginger, Mango Jalapeno, and Sangria kombucha!
Manhan Organics is bringing microgreens, lettuce, carrots, baby beets, and eggs
Mayval Farm is coming with cheese, skyr, milk, kefir, beef and maple products and cookies! She will have delicious peach skyr using Park Hill peaches
Park Hill Orchard will have two kinds of peaches, bright star and flaming fury, as well as summer apples
Riverside will have a ton of veggie and herb starts, beets, Kale, Rainbow chard, along with succulent terrariums and houseplants
Sweet Morning Farm will have PORK Lots of great cuts including loin chops, country ribs, shoulder, shanks, ribs, and sausage. EGGS Multi-colored, pasture raised  with organic feed. FLOWERS Beautiful bouquets in abundance! VEGETABLES Broccoli, cauliflower, baby fennel, BEANS, beets, carrots, squash, cucumbers, kale, Swiss chard, calaloo, Napa cabbage, herbs, hot peppers, eggplant, onions, potatoes, leeks, cabbage, mesclun mix, and more!
This week's guests and entertainment:
Easthampton Planning Commission will be doing a demonstration with ValleyBikes! Come by to try out an electric assist bike and get info on how to sign up to use them.
PJ Niver will be there with Culture of Reuse. In addition to information on reuse, gifting communities, and recycling education, this week she will also have information about how to find and purchase items not wrapped in plastic packaging, reuseable items that can replace single use items, and gifting some water bottles. 
ARTS AND CRAFTS  with Miss Danielle!
AND: musician Greg Reil, who will play from 9-11