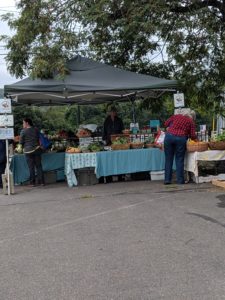 Good afternoon!
Here's who is coming to the market this weekend and what they are bringing! Fall seems like it's finally here, and we are looking forward to fall veggies!
Here's who's coming to market this week:
Irida Kakhtiranova's goods will be for sale! She makes pierogi. The pierogi come frozen in a variety of flavors, such as cheddar, cheddar and bacon, feta and spinach, etc.
Lifebooch is coming with Strawberry Basil, Ginger, Mango Jalapeno, and Sangria kombucha!
Mayval Farm is coming with cheese, skyr, milk, kefir, beef and maple products! There will also be cookies and blueberry parfaits. New this week are pints of maple syrup.
Riverside will have Kale, Rainbow Chard, Scallions, Tomatoes, Lunchbox peppers, microgreens, Radishes, cucumbers, and some houseplants
Sweet Morning Farm Beets are back!! PORK bacon, ham steak, hotdogs, kielbasa, ribs, loin chops, country ribs, shoulder, hot, sweet, and breakfast sausage, and more. All rotationally grazed on fresh pasture and organic feed!  Special cuts and 20 lb discount bundles available by request. FLOWERS are slowing down but we still have some beautiful bouquets EGGS organic fed, pasture raised, and colorful VEGETABLES Edamame!, fresh shell beans, BEETS, Bok choy, salad mix, head lettuce, tomatoes, hot and sweet peppers, eggplant, tomatillos, onions, garlic, leeks, happy rich broccoli, beans, broccoli shoots, celery, fennel, squash, kale, Swiss chard, salad turnips, cabbage, Napa cabbage, herbs, and more!  Plus butternut squash, parsnips, potatoes, peppers, apples, and honey from the expert growers at Coyote Hill Farm!
This week's guests and entertainment:
Greg Reil will be on hand to serenade shoppers from 9-11
Arts and Crafts with Miss Danielle!