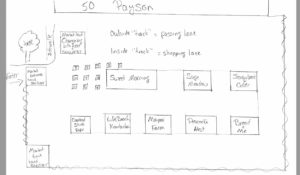 Who's excited for the market Sunday? We sure are! Here is a rough, not-to-scale sketch of the layout for the week. We are incorporating numbered, distanced spaces at Sweet Morning and a different set-up, so keep an eye out for that when you arrive. And here are a few reminders on how you can help us:
– Please pre-order as much as possible (see our post from yesterday with those details).
– If you are paying with cash, please stop by the market tent first and break your large bills. Vendors will only be taking exact change moving forward. This helps every vendor immensely.
– Everyone was great with social distancing last week, which we SO appreciate! One thing, you are permitted to approach the vendors' tables when shopping. We have the shower curtains set up as a physical barrier, so you can come a bit closer.
– We are asking our vendors to speak a bit more clearly/loudly and we are asking the same of you. Between masks, plastic sheeting, that pesky wind, it can get a little hard to hear at times. Let's all work together on this one!
– Please be nice to our volunteers! We know that the market has had to change a lot to meet requirement, and we really appreciate your patience! Our team of volunteers is there to help you.

See you Sunday!